Maximum light under your veranda
Enjoy maximum well-being by adding a skylight to your home extension. The ASTRAL skylight for flat roof veranda lets you enjoy completely your new living space. It provides all the natural light you wish for while maintaining the insulation and waterproofness capacities of your modern veranda. This option is compatible with the products of the flat roof home extension range developed by Espace Lounge®.


Maximum
light


Maximum
dimensions


Integrated
design

360°
View


Preserved
thermal comfort
Light up your veranda

with a beautiful natural light
Adding the ASTRAL skylight to your flat roof veranda brings a wide natural lighting in the whole room. No matter the positioning of your house, an inflow of light through the roof allows a maximal exposure to the sunrays all day long.
The skylight ASTRAL is an additional source of natural light for your house extension and reduces the use of artificial lighting.
An XXL skylight

for a 360° view
Specially conceived for the Espace Lounge® home extensions, the ASTRAL skylight offers a 360° view.
Thanks to its XXL dimensions, you will have a limitless view of the sky and you will be able to fully enjoy starry nights. With a width up to 1800 mm and an outstanding depth of 6000 mm, you can add a glass grid on the whole depth of your veranda.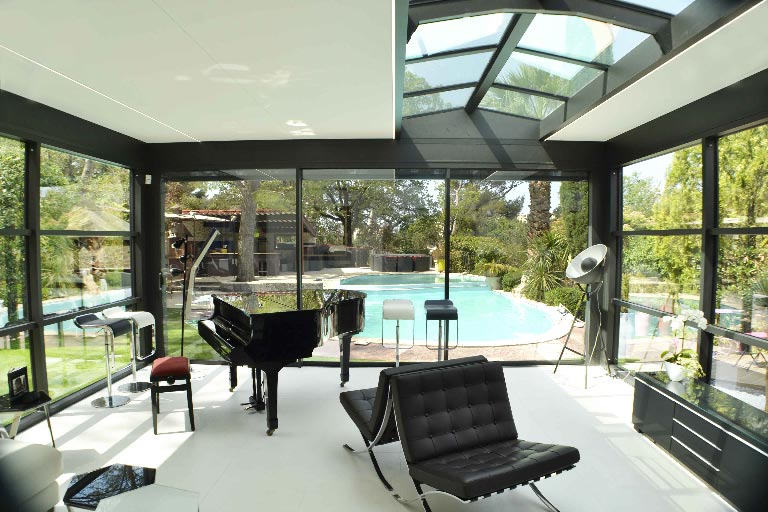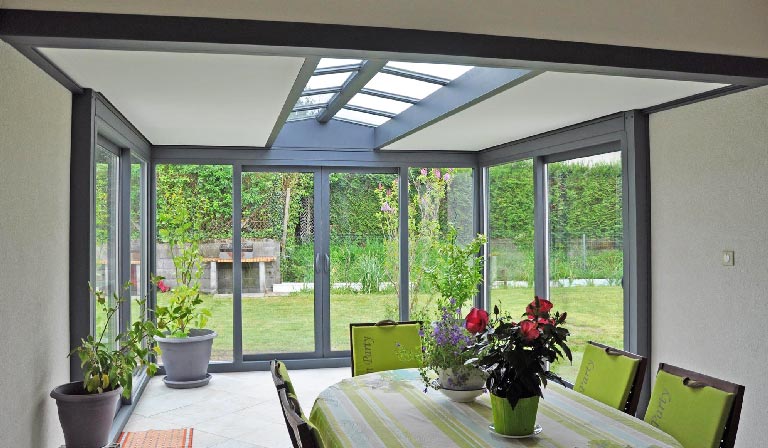 A perfect balance between
light and comfort in your veranda
Espace Lounge® developed an efficient skylight solution for aluminium verandas.
The structure of the ASTRAL skylight has thermal break in order to maintain all the thermal comfort of the home extensions Zenith and Equinoxe. It can be fitted with double or triple insulating glass to avoid any heat loss when you are heating up the room.
Thus, you can enjoy a perfect balance between thermal comfort and natural light.
Adapt your lighting

to your living space
With its elegant and contemporary design, the installation of the ASTRAL skylight improves the appearance of your house extension.
It is possible to have more than one skylight. 1, 2 or 3, it is up to you to create large glass spaces and to adapt the natural light inside your veranda as you want.
You wish to shed light on a work surface or a desk? Place your light grid wherever you want on your flat roof. Whether offset from a roof or decentered, it is up to you to choose.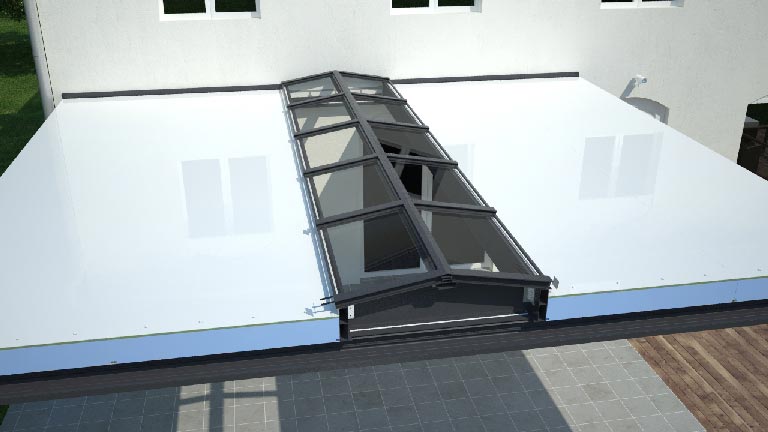 XXL dimensions
Depth: up to 6000 mm
Width: available in 1200 mm or 1800 mm
Offset from the roof possible up to 1000 mm
Perfect integration
Compatible with double or triple glazed glass
Possibility to add integrated LED spots
Discover compatible products :