A unique range of BIO-THERMIC pergolas


Patented
system


Thermal
comfort


Patio usable
365 days a year


Elegant
design


Made-to-measure
project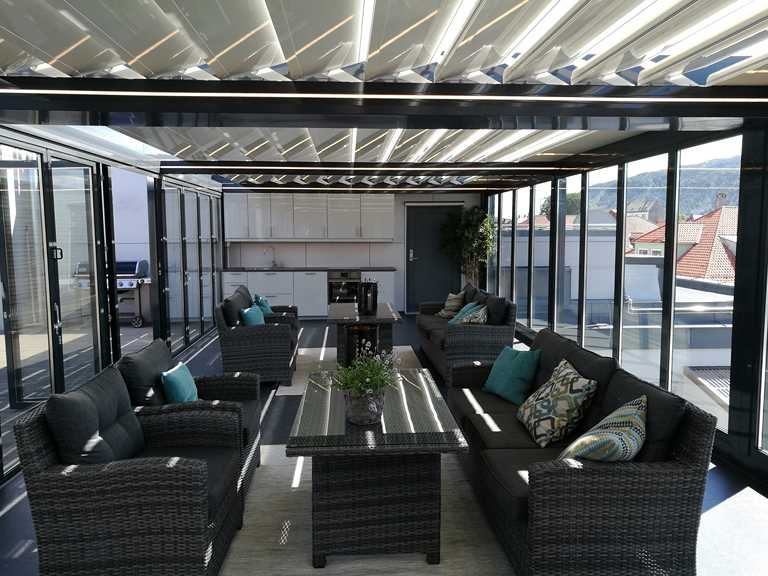 An insulated pergola

for a comfortable patio all year round
The BIO-THERMIC pergolas developped by Espace Lounge® guarantee a thermal comfort all year round.
The only range of aluminium pergolas with insulated blades on the market that allows you to enjoy your patio in summer and winter alike.
Its thermal break aluminium structure compatible with double or triple glazed lateral closings turns your patio into a sheltered living space. BIO-THERMIC pergolas keep the coolness inside in the summer and enhance the effects of the sun in the winter.
Treat yourself to a top of the range pergola to be at ease on your patio all year long.
Pergola with motorised retractable roof

to be adapted to your wishes
Play with light and shadow thanks to the motorised retractable roof of the aluminium pergolas Espace Lounge®.
Adjust the opening of your pergola roof from your couch thanks to your remote. Control the natural ventilation, the shadow and adapt the temperature in your pergola with your fingertip.
Go from a insulating patio cover to a completely open roof in just a few seconds.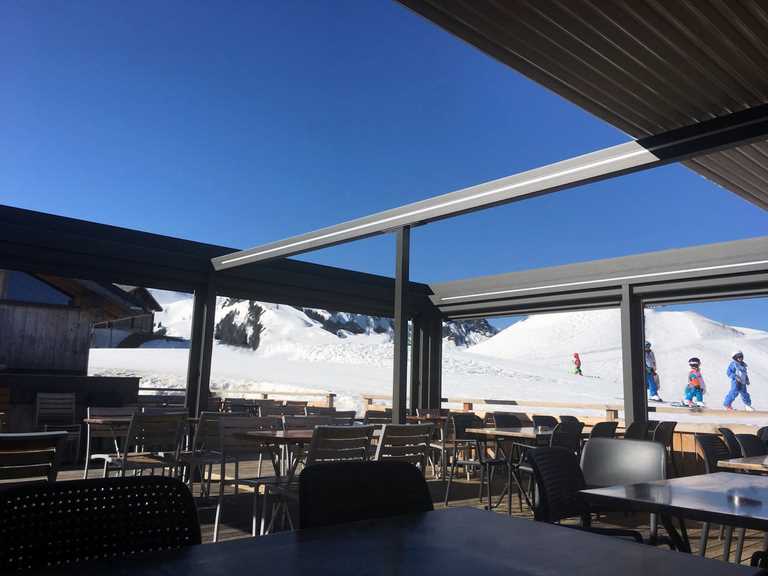 A strong patio protection

all year round
The structure and the blades with high mechanical resistance of the BIO-THERMIC pergolas ensure the durability of your installation against bad weather.
Thanks to the extreme load resistance of the blades up to 1000 Kg/m² you can leave your roof closed even in a snowy weather. When completely closed, the insulated roof of the BIO-THERMIC pergolas protects you efficiently of the sun and the rain.
With lateral closings the Espace Lounge® aluminium pergola shelters you and is wind-resistant. Choose an efficient patio protection in all seasons.
A high-end and made to measure

aluminium pergola
Give style to your patio.
A stylish and tailor-made pergola that fits perfectly every styles of architecture, in every region.
Add our lighting option to your pergola and enjoy your patio after nightfall. A modern and high quality patio design that brings comfort and elegance to your home.