ZENITH

Design meets comfort for a made-to-mesure veranda
More than a veranda, treat yourself to a new living room that can be used all year round. Discover the combination of a refined design, an outstanding thermal insulation and a maximal natural light input for a new cozy living space and a pleasant room to live in all year round.


Patented
system


Elegant
design


Thermal
comfort


Maximum
light


Made-to-measure
project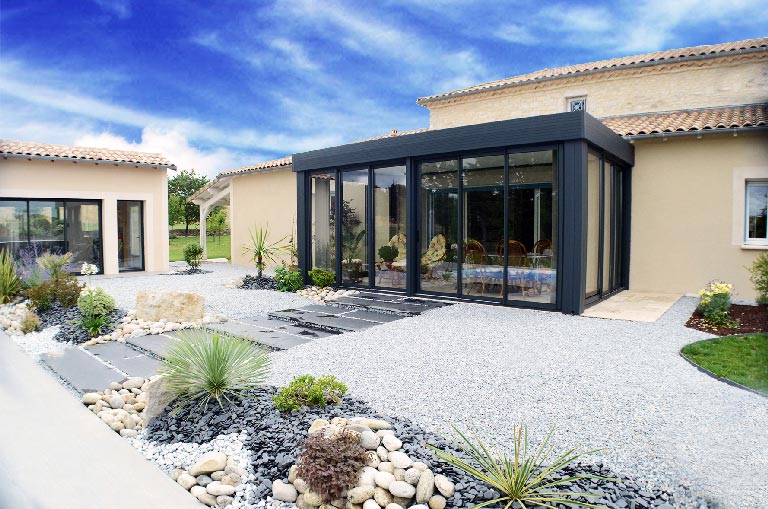 The design of a flat roof extension

for a modern house
The flat roof home extension ZENITH enables you to extend your house while respecting the existing architecture.
The timeless design of this flat roof extension adapts perfectly to any type of housing, no matter its style, origin or location. The simple yet trendy structure of this contemporary veranda ensures that your house will look modern and sophisticated. Because it is spacious, the flat roof home extension ZENITH increases your layout possibilities and assures an optimal use of your new living space.
The self-supporting composite panels of a 167 mm thickness combine insulation, interior finish and mechanical resistance.
Your new living space with an

outstanding thermal comfort
The insulation of your house extension's roof is a key point to turn your veranda into a pleasant and comfortable room to live in. The roof of ZENITH is composed of 167 mm thick composite panels with a very high thermal insulation for a roof 4 times more insulating than a regular veranda roof. As it is extremely insulating, the ZENITH home extension protects you efficiently from sunbeams and keep your interior cool in the summer. In winter the insulating composite panels keep the heat accumulated in your new living space and even share it in the adjoining rooms.
It is the end of both the hothouse veranda and the freezer veranda that are poorly insulated. Espace Lounge® turns your veranda into a kitchen, a living room or a dining room pleasant to live in in all seasons.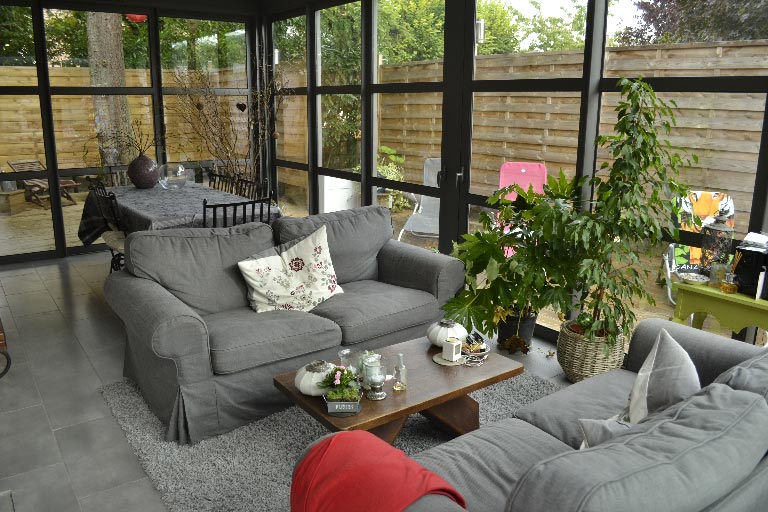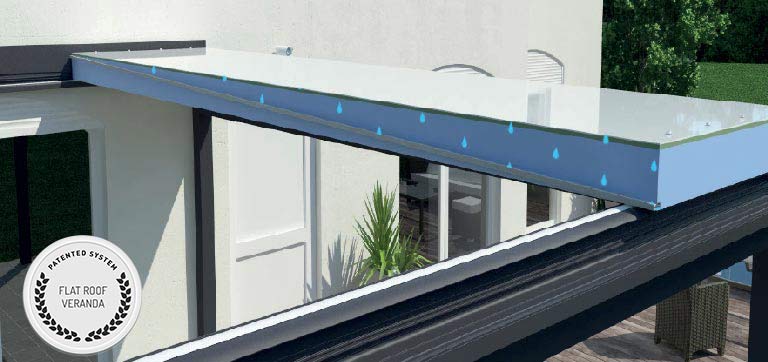 The guarantee of a veranda with

a patented and tested system
An extension full of light

for your house
The modern Espace Lounge flat roof veranda allows to have higher glass surfaces on the sides. You can now enjoy a panoramic view of your garden or swimming pool. In addition, the ZENITH flat roof can integrate an XXL skylight, to light up your interior with a pleasant natural light.
At nightfall, the large glass grid offers a magnificent view of the starry sky.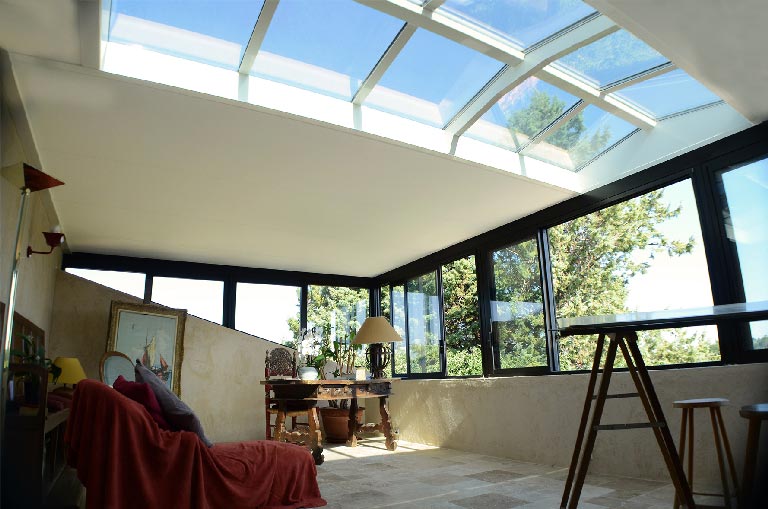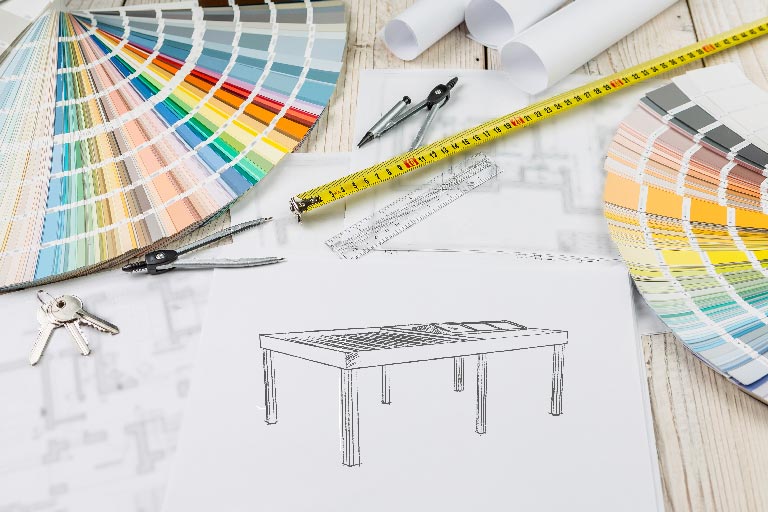 A contemporary veranda made-to-measure

according to your wishes
It is possible to personalise your home extension according to the use you want to make of it and to its positioning.
To adapt your extension perfectly to your wishes, to the dimensions and the layout of your house, your nearest certified installer will advise and guide you throughout your whole project. You can for example choose a colour in harmony with your house and its environment among a range of over 800 colours.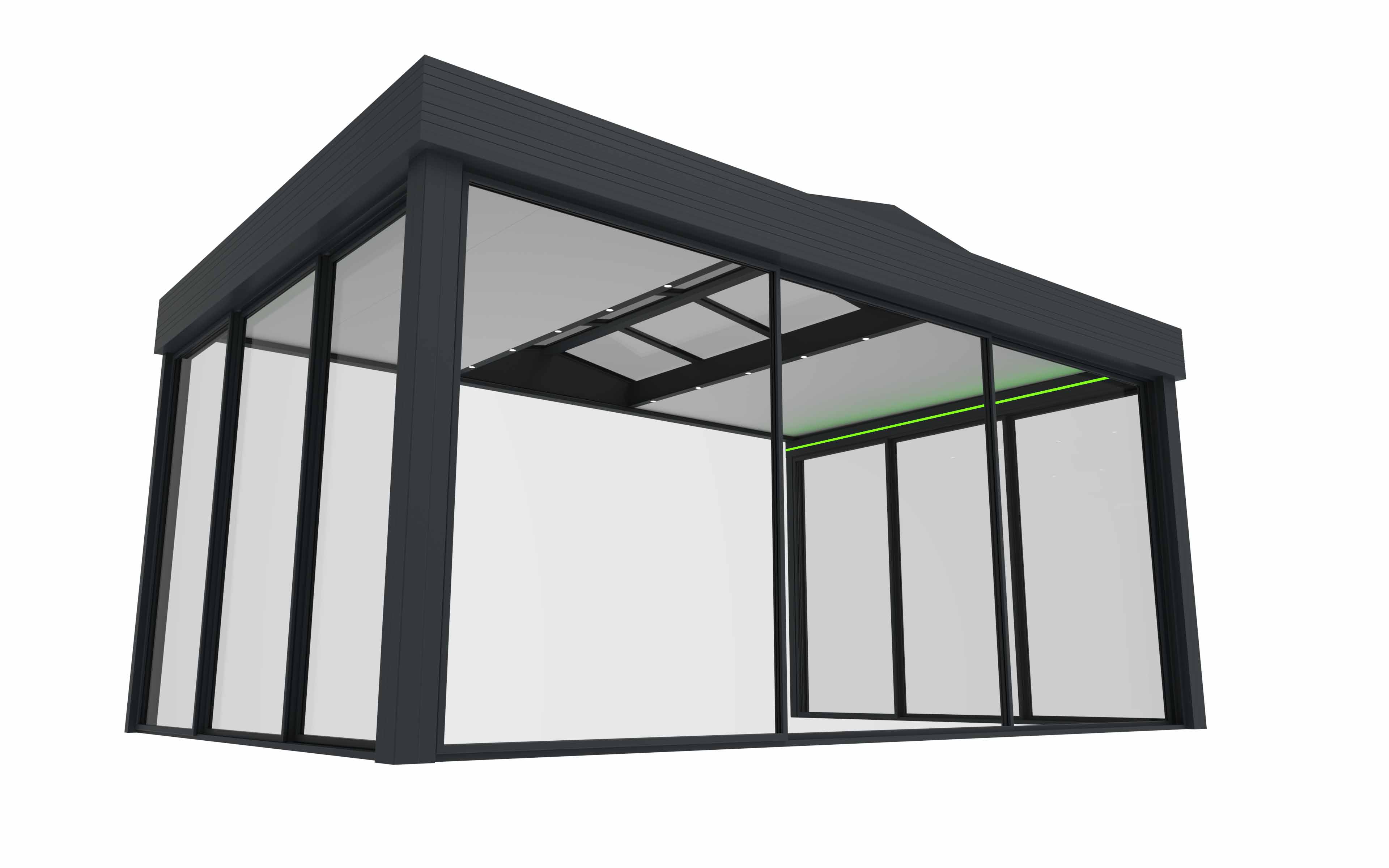 Patented system
Self-standing or wall mounted veranda
Reduced wall space required.
Compatible with a roof overhang and every type of architecture
A choice of over 800 colours
Made-to-measure manufacture
Natural slope of 1%
167mm thick insulating panel – thermal comfort R – 5,8.K/W
Self-supporting panels: no need for beams or framework
Panels with high mechanical resistance that keep up up to 450 kg/m²** *depending on the dimensions

Structure made of 100% aluminium with thermal break
Compatible with double or triple glazed side elements with thermal break
Compatible with Zip Screens