Sky Lounge

The only insulating pergola with retractable blades to enjoy your patio 365 days a year
The manufacturer of pergola Espace Lounge® has developed a unique and exclusive product : Sky Lounge, the first BIO-THERMIC pergola for a 3-in-1 comfort. Insulation, roof with motor-driven retractable blades and maximum opening. The patented system Sky Lounge is a real revolution in the world of aluminium pergola. Turn your patio into a living space that adapts to your wishes.


Patented
system


Thermal
comfort


Patio usable
365 days a year


Efficient
sun protection


Maximum opening,
retractable roof


Lighting
with dimmer switch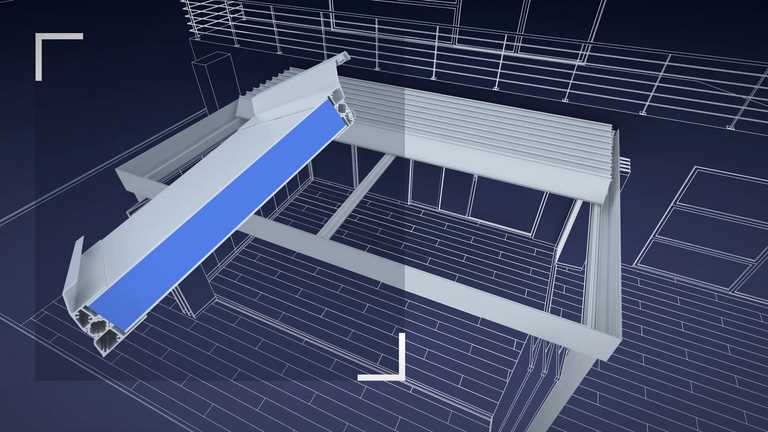 A BIO-THERMIC pergola

comfortable all year round
Sky Lounge offers a new definition of comfort. The only pergola with insulated blades on the market lets you enjoy your patio 365 days a year. Its structure in aluminium with thermal break guarantees insulation and comfort in summer and winter alike.
Compatible with thermal break closings, the pergola can be closed with various insulating closing solutions in order to have a sheltered patio and a closed living space.
A motor-driven retractable roof

to adapt your patio to your wishes
Whether you want to let in plenty of light or protect yourself from the sun, the adjustable roof of the pergola allows you to quickly find the right position. Thanks to its remote-controlled motor, control the opening and closing of your BIO-THERMIC pergola with your fingertips.
While closed, enjoy a insulated and comfortable living space. While partially open, enjoy fresh air and natural shadow for an optimal comfort. While open, the insulated blades in aluminium retracts completely to let you enjoy an open-air patio.
A pergola with high mechanical resistance
to protect you from bad weather
When completely closed, the roof of the BIO-THERMIC pergola protects you efficiently from the sun and the rain to let you enjoy your patio in every weather.
The structure and the insulated blades with high mechanical resistance of the aluminium pergola Sky Lounge can hold up heavy loads. Thanks to an extreme resistance to snow and wind, this unique system allows you to leave your roof closed even in a snowy weather.
A high-end and made-to-measure

pergola
You want a pergola mounted against the wall of your house or self-standing in your garden?
Sky Lounge is made to measure for a modern and stylish patio.
For a high-end pergola suiting your image, you can customise your project by choosing a colour among a large range of tones.
Light up your evenings with the option of integrated lighting.
Patented system
Self-standing or wall mounted Pergola
Maximum dimensions of one unit*:
- Width : 7650 mm
- Depth : 7000 mm
*Can change depending on the region. Please contact us. Possibility to add up units.
Thickness of the blades: 50 mm of XPS Styrofoam insulation
Width of the blades : 490 mm
Mechanical resistance of the blade: up to 1000 kg/m²
Remote-controlled motorised opening
Maximum opening 85%
Option : integrated LED spots or strips in the structure
A choice of over 800 colours
Made-to-measure manufacture