Green Lounge Silent

A unique green roof solution for verandas
Discover all the advantages of a synthetic green roof for verandas thanks to the exclusive GREEN Lounge® Silent technology. This unique system offered by Espace Lounge® improves your thermal comfort and effectively reduces rain noise. Bring an elegant finish to your roof for a home extension in harmony with your garden.
This exclusive roofing option is perfectly adapted to the Espace Lounge® products of the home extension range such as Zenith, Equinoxe or Espacium. GREEN Lounge® Silent can be laid during or after the installation of your Espace Lounge® extension.


Elegant
finish


Thermal
comfort


Reduce the noise
of rain


Green
touch


Visual
integration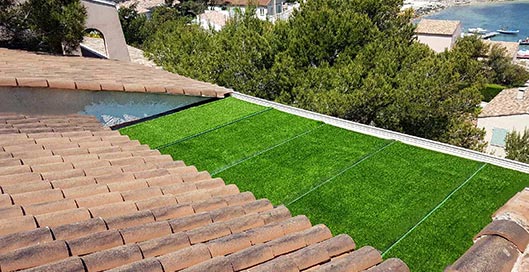 Better sound insulation

in your veranda
To reduce the noise of rain on your roof and to provide you with a peaceful living space, you can choose to add the GREEN Lounge® Silent solution.
This unique synthetic green roof system composed of 30 mm thick sound insulation improves the acoustic comfort of your home extension. The sound level measured under the roof is 40 dB which corresponds to the calm of a library or a quiet office.
A new living space with better insulation,
to be used all year round
This solution of synthetic green roof for flat roof extension makes it possible to reinforce your thermal comfort inside your veranda. The unique GREEN Lounge® Silent process increases your thermal insulation to a coefficient of R = 6.95m².K/W*for a roof four times more insulated than a conventional veranda roof. Easily enhance your comfort under your home extension for all-season wellness.
*The R symbolizes thermal resistance. This value expresses the insulating performance of a material. The higher the R, the more insulating the material.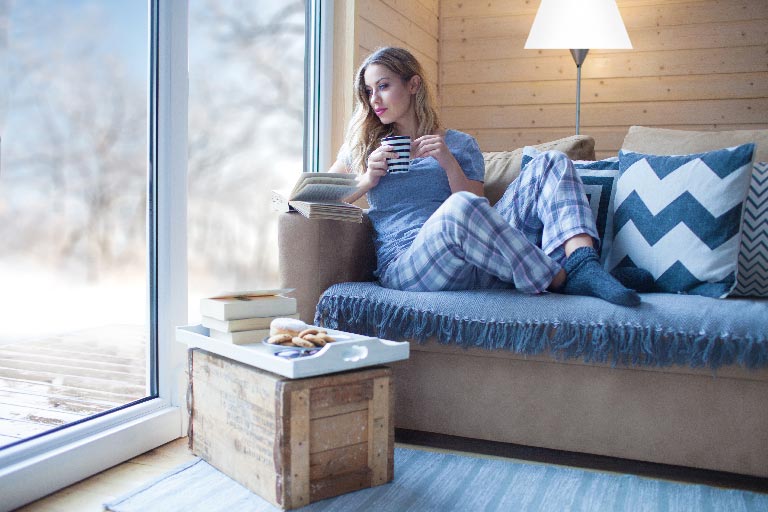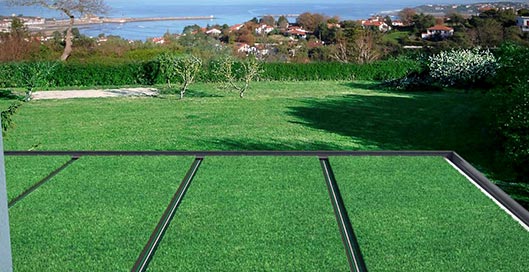 A green roof for

a modern extension
You would like a modern veranda ?
Give an aesthetic finish to the roof of your new living space.
The flat roof of your home extension is adorned with a grass carpet and blends perfectly with the outside and the surrounding landscape. GREEN Lounge® Silent is a simple solution for your flat roof combined with the advantages of a green roof for veranda.
Video
Check out our video GREEN lounge silent - synthetic vegetalized roof for optimal thermal comfort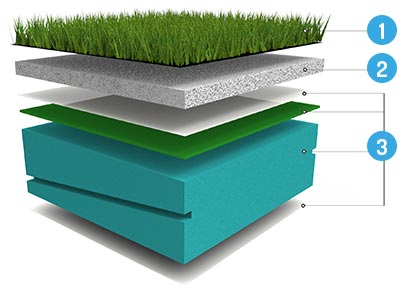 GREEN Lounge® Silent solution with exclusive Feelgood® technology

Draining polystyrene - 30mm thickness

Insulation board - 167mm thick
Increase thermal insulation in your Espace Lounge ® extension to a coefficient R = 6.95m².K / W
The sound level measured under the roof can reach a LiA = 40dB (calm similar to a library) p>
Discover the compatibles products :