CELESTE

More than just a veranda,
it's a home extension
Do you want to increase your home's surface area? Do you dream of a comfortable new room that you can use in all seasons?
Meet Celeste.
Espace Lounge® revisits the traditional veranda concept to bring you a real extension.
Choose the best for your home in terms of insulation, light, comfort, and design – all at an affordable price.


Patented
system


Elegant
Design


Thermal
Confort


Natural
Light


Made
to-measure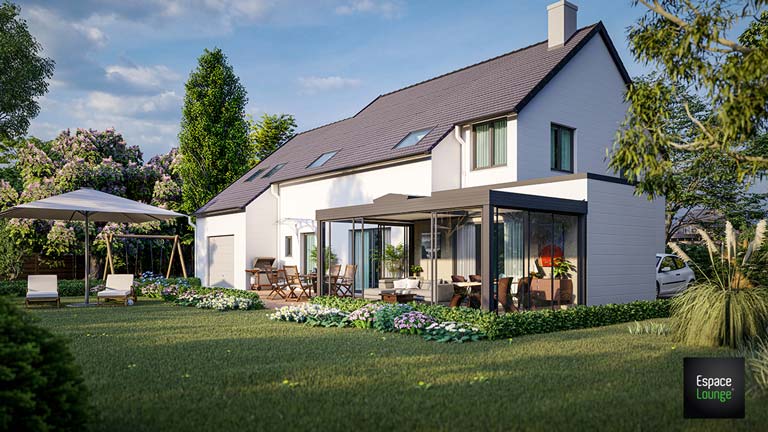 A sleek, elegant


aluminum structure
The minimalist, uncluttered design of the real Espace Lounge® flat-roof veranda adapts to all types of homes, whatever your style or region. The elegant, modern Celeste model fits in perfectly with your home's architecture.
Made from quality aluminum, the Espace Lounge extension offers a high-quality finish.
A veranda

with optimal comfort
For your comfort, insulating the roof is a priority. Celeste's roof is up to 4x more insulating than a traditional veranda. Its roof is equipped with an efficient 130-mm-thick insulating core to bring you thermal comfort in all seasons. Keep your interior cool in summer, and trap warmth in winter.

To guarantee you optimal use of your new space, Espace Lounge® builds an acoustic filter into its roofing.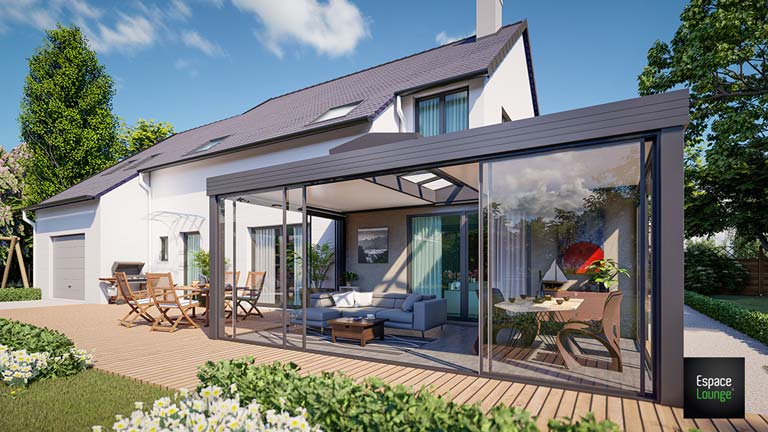 Take full advantage of the natural light in your new space with the ASTRAL integrated skylight. Overhead light spreads the natural light evenly throughout the room. With larger picture windows, the Celeste flat-roof veranda lets you fully enjoy your view of the yard while keeping things comfortable inside.
The Celeste model guarantees optimal safety with its unique patented sealing system built into the core of the panel: Water Drive System®.


This technology, which can be found in more than 2000 projects throughout France, has been developed to guarantee your safety and comfort year-round. A flat-roof veranda with a proven system means you can enjoy your new space with total peace of mind.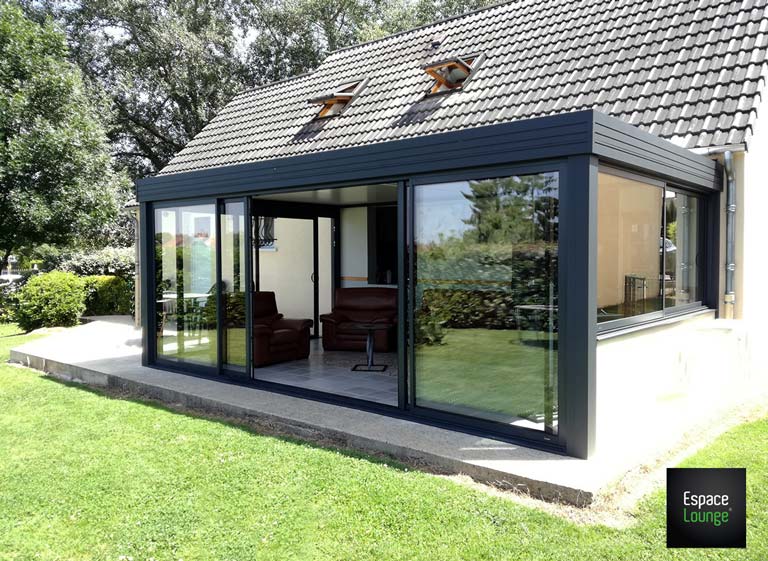 More than 800 shades to choose from
Made-to-measure manufacture
135-mm-thick composite panels with integrated acoustic filter: R= 4.10m².K/W
100% aluminum structure with thermal break
Maximum dimensions : - Depth : 5000 mm - Width : custom - Clear span between posts : 4500 mm
Secure system with integrated drainage slope: Water Drive System®
Optional add-on : - LED Strip Lighting (White or RGB) - ASTRAL 1200 mm skylight
Discover the other products :